12" ORACAL 651 Permanent Adhesive Vinyl . Choose Size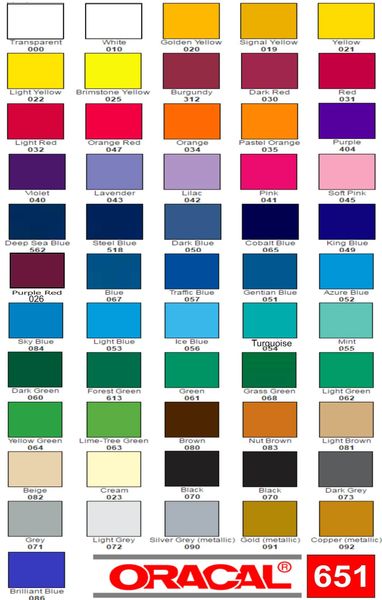 12" ORACAL 651 Permanent Adhesive Vinyl . Choose Size
Oracal 651 - Intermediate, Permanent, Adhesive
Outdoor, for Decals, Vehicle Graphics and Marine Graphics

6+ yr life, Self Adhesive

2.5 mil, Cuts and Weeds Easily

Conforms to Simple Curves and Flat Surfaces

Compatible with Cricut, Silhouette and every brand vinyl cutting machine

Oracal 651 Intermediate Vinyl

High gloss, intermediate-performance PVC film manufactured using a proprietary formulation that ensures optimized stability and resistance to UV degradation.

Compatibility
Suitable for all craft/hobby/professional vinyl cutting machines. For medium to long term applications including decals, vehicle graphics. Can be applied to any smooth surface such as: painted wood, glass, tumblers, ceramic, metal, signs, banners, hard plastic, fiberglass, etc.
Description
High gloss, intermediate-performance specially optimized PVC film.
Release Paper
84# custom silicone-coated paper with special release characteristics that provide excellent weeding and release values. Customized blue silicone paper liner for matte white and gloss white provides superior contrast for cutting and weeding.
Adhesive
Solvent polyacrylate, permanent.
Areas of Use
Due to its special release characteristics, this product is ideal for use on computer-aided signmaking (CAS) equipment. Its special proprietary formulation ensures optimized stability and resistance to UV degradation. For medium-term outdoor applications.
Thickness
(without protective paper and adhesive) 2.5 mil
Dimensional Stability
(FINAT-TM 14) adhered to steel, no shrinkage in cross direction, in length <.016"
Temperature Resistance
adhered to aluminum, -40F to +176F no variation
Adhesive Power
(FINAT-TM 1, after 24 h, stainless steel, average) 4.1 lb/in
Outdoor Durability
(based on vertical surface exposure) 6 years, 4 years metallic, 3 years brilliant blue
Seawaterability
(DIN 50 021) adhered to aluminum, no variation after 100 hours/73F
Resistance to solvents and chemicals
After 72 h adhered to aluminum at room temperature, resistant to most oils and greases, aliphatic solvents, weak acids, salts and alkalis.
Minimum application temperature
+46 F
Surface finish
high gloss, matte (black & white only)
Number of Colors
59 (Not including transparent)