Custom - Sublimation Transfers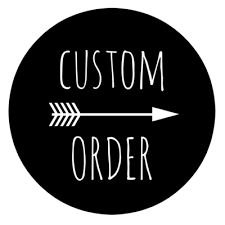 Custom - Sublimation Transfers
Highest quality sublimation transfers!
We would be happy to provide you with Sublimation Transfers featuring YOUR picture or design! Perfect for family reunions, fundraisers, groups, teams and full color photo items!
Sold individually or in packs of 10; your choice of size.
No Minimum order
Choose from:
Individual Regular Sheet - 8.5" x 11" - (1) full design. Price is per sheet/image.
Individual Large Sheet - 8.5" x 14" - (1) full design (1) 3.5" largest dimension. Price is per sheet/image.
Bulk - 10 Regular Sheets - each sheet is 8.5" x 11" each - (1) full design. Price is for 10 sheets, same image.
Bulk - 10 Large Sheets - each sheet is 8.5" x 14" - (1) full design (1) 3.5" largest dimension. Price is for 10 sheets, same image.
How to order:
Ordering is easy! Simply choose which sheet set(s) you prefer and email us your picture/design! Email: stickyfingersvinyl@yahoo.com. Be sure to provide an email when ordering so we can contact you as quickly as possible with any questions or concerns we may have.
PLEASE NOTE: all picture or designs should be submitted in the largest format possible. Images are always clearest when scaled down and not stretched larger. If we have any concern over the quality, we will be sure to contact you-- we certainly won't print any image that we wouldn't be proud to stand behind! Designs are printed as received-- we cannot alter or add to them, other than scaling size. BE SURE to remove any unwanted background before submitting the photos. If your photo contains a black box, or any other background, that will also print. PHOTOS WILL BE PRINTED EXACTLY AS RECEIVED.
By placing a custom order and submitting the images, you are agreeing that you have permission to reproduce the image for your own use. Please be sure no items are trademarked or copyrighted; as any liability will be transferred to the submitting party. 
We will not resell or reproduce any image supplied to us outside of your custom order! The custom order you place is considered yours and not our property.
We will print nearly any image or design submitted; however, we reserve the right to cancel and refund any order. Curse words are not a problem.
All Custom Sublimation Transfers are printed to order... Please allow 3-5 BUSINESS days for shipping. If ordering other items, the entire order may experience this delay; therefore, it is recommended to purchase any other items separately. 
Be sure to double check spelling and placement of your design; also remove any unwanted backgrounds. They will be printed exactly as received; therefore, we cannot offer refunds for sheets containing mistakes. Also, if you are not proficient with sublimation, we recommend you test prior to pressing your custom designs. We cannot be held responsible for application error and will not issue a refunds for such.
Simple application:
White or Light Color Garments
50% polyester or Higher
Heat Press: 385° - 400°
Medium to Firm Pressure
60 Seconds
Place Teflon Sheet inside shirt to prevent color bleed-through.
For use on white or light color garments.
Best Results on Polyester Garments - no less than 50/50 polyester content. The higher the polyester content, the more vibrant the image. Our transfers are also suitable for all coated sublimation blanks.
Can also be applied to all other substrates pre-coated for sublimation, including:
License plates
Mouse Pads
Koozies
Coffee Mugs
Towels and Rugs made of high polyester count or polymer