Oracal 631 Removable Wall Vinyl 5 ft. Roll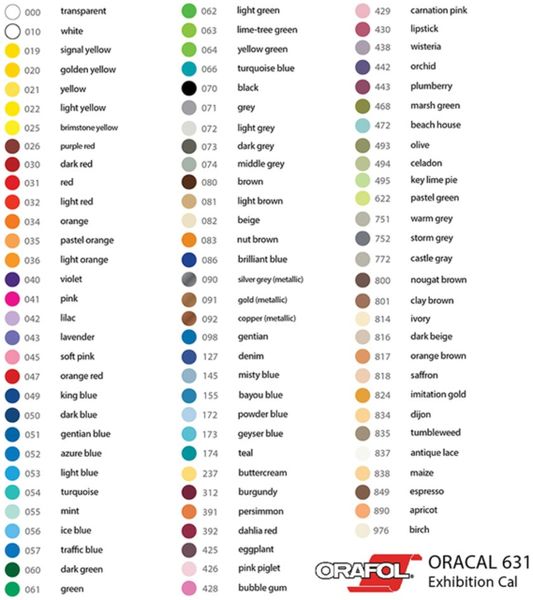 Oracal 631 Removable Wall Vinyl 5 ft. Roll
Wall/Craft Removable Vinyl
5 ft. Continuous Roll
Description
Soft PVC film that features a matte surface to suppress unwanted reflection and residue-free removal for two years.
Release Paper
83# custom silicone-coated paper with special release characteristics that provide excellent weeding and release values. Customized blue silicone paper liner for white provides superior contrast for cutting and weeding.
Adhesive
Polyacrylate dispersion, removable
Areas ofUse
Due to its special release characteristics, it is ideal for use in computer-aided signmaking (CAS) equipment. For short- and medium-term outdoor applications in display and exhibition stands. Certified according to DIN 4102-B1.
Thickness
(without protective paper and adhesive) 3 mil
Dimensional Stability
(FINAT-TM 14) adhered to steel, no shrinkage in cross direction, in length <.016"
Temperature Resistance
adhered to aluminum, -40 deg F to
Adhesive Power
(FINAT-TM 1, after 24 h, stainless steel, average) 1.65 lb/in
Shelf Life
(68 deg F/50% relative humidity)
Seawaterability
adhered to aluminum, no variation after 48 h/73 deg F
Resistance to solvents and chemicals
After 72 hours adhered to aluminum at room temperature, resistant to most oils and greases, weak acids, salts and alkalis
Removability
residueless removal within 2 years
Minimum application temperature
+50 deg F
Surface finish
Matte
Number of Colors
63
Indoor Durability
(based on vertical surface exposure) 3 years