Plastic Americana "Thank You" Bag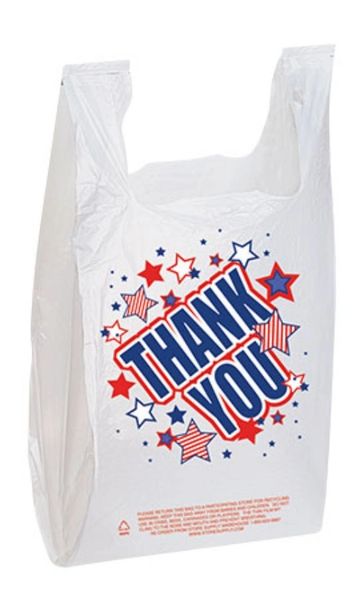 Plastic Americana "Thank You" Bag
11½" x 6" x 21" Americana Plastic T-shirt Bag
Features :
• 11 ½" x 6" x 21"
Standard Supermarket Size
• Bag Size Includes Handles
• Thickness: .48mil HDPE
• Fits bagging stands
Description :
The Americana Plastic T-Shirt Bag is one of our most popular bags. Featuring Red, White and Blue "Thank You" print, this bag is a wonderful way to show your customers that you appreciate their business while expressing your American Pride. Made of durable plastic these bags are available in standard "supermarket" size, fitting perfectly into bagging stands for quick and easy use. The thank you plastic t-shirt bag is an economical way to provide a necessary retail packaging solution. All of our t-shirt bags are in stock and available for immediate shipping.