SISER EasyWeed GLITTER Sheets 12" x 12"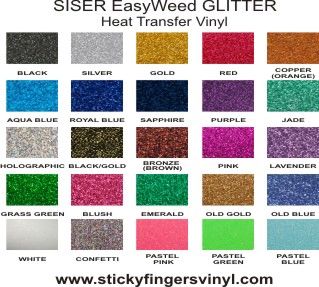 SISER EasyWeed GLITTER Sheets 12" x 12"
CHOOSE YOUR FAVORITE GLITTER COLOR!
SISER EasyWeed Heat Transfer Vinyl
12" x 12" 
Perfect for:
 Smaller Details 
Expanding your Color Selection
...the possibilities are endless!
Siser is THE Best Brand in the Industry! 
Don't be fooled into using cheap Chinese material that may crack and peel. DEMAND THE BEST!
**Simple to use!** 
Cut image in reverse (mirror). 
Weed excess material. Preheat garment in heat press at 305 degree F/150C 
for 4 seconds. Position EasyWeed application on garment and 
press  for an additional 10-15 seconds with medium pressure. This is a HOT or COLD peel product. Teflon sheet
should always be placed between the heat platen and the plastic carrier sheet to prevent
sticking and edge damage to the transferred design.
LOWER PRESSURE AND HEAT LEVELS SO IT EVEN WORKS WITH A HOUSEHOLD IRON!
***PLEASE NOTE***
ACTUAL EXACT WIDTH FROM MANUFACTURE MAY BE +/- 1/4"
Specifications:
Adheres to: 100% cotton, 100% polyester, poly/cotton blends

Pressure sensitive carrier/backing

Semi-Gloss Finish

95 Microns / 3.7 mils

Recommended 45° blade

Layering Possible